This website is closed and not active anymore.

Teamwork has
an operating system.
This is it.
Completely new technology for selecting, developing, managing and motivating people and teams.
A fast-growing $1B firm adopted Teamability for selection, and its 30% rate of new-hire turnover abruptly ended, saving $millions in hiring & training costs.
Business Value
How much more will your organization achieve when every team becomes more resilient, more collaborative, and more productive?
Now, with Teamability, you can create amazing teamwork in startup teams, project teams, production teams, sales & service teams, any and all teams! Learn the secret of team success in your own business environment by comparing high- to low-performing branch offices, franchise locations, or virtual teams.
Team Analysis identifies and explains quality of team interaction and fit-to-mission. The metrics and management methods are fully integrated, for decision support reports that are compact, clear, and actionable.
More »
Personal Value
Positive person-to-person teaming produces a sense of accomplishment, reduces workplace stress, stimulates innovation, increases productivity and much more.
A Teamability Self-coaching report begins by identifying your own approach to teaming with others, and how to make best use of that information to 'team well and prosper'. It will also link you to information on the different ways that other people seek to make meaningful contributions to their team, including highly effective ways to to build trust, express appreciation, and show respect.
More »
"Teamability is like having the answer key to a million-piece organizational puzzle."
R. "Ray"
True Analytics of Team Chemistry
Integrated technology and management methods for Understanding it, Planning for it, Activating it, Utilizing it, and Sustaining it.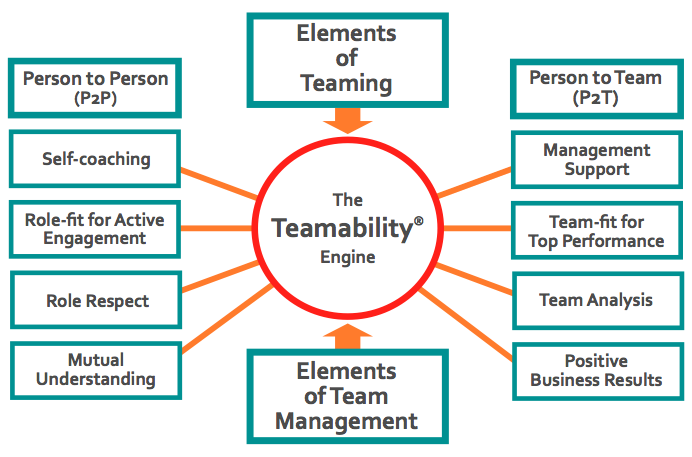 More »
↑ Back to Top